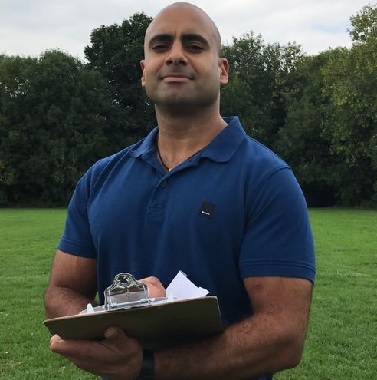 Sunny Verma
( Personal Trainer )
I started training as a teenager and immediately fell in love with exercise and how it makes me feel. It has given me confidence and taught me discipline, which has positively spilled into the other areas of my life. My 20 years of training have given me knowledge and learning's, giving me the urge to pass on and share with others. For me physical exercise is a crucial part of keeping our bodies and minds healthy and strong.
My Experience
I have 20 years of experience in weight training, I have trained in a number of gyms, trained a diversity of people and used a variety of training methods as a fully qualified Level 2 Gym Instructor and Level 3 Personal Trainer.
Training Style
My favourite training style is High Intensity as I find it brings the fastest results in the shortest amount of time whatever the goal, whether it is for building muscle mass, improving weaker areas, increasing strength, losing body fat or boosting fitness and stamina levels. However I also use other training methods when High Intensity is not suitable or compatible to the clients training needs. My manner of training is firm and focused and I strive for efficiency in my workouts.
Inspiration
My greatest inspiration from a very young age was always Bruce Lee, not just for his physical feats, but also for his endeavours to strengthen one's mind and awareness.  He stepped outside of the box and taught us to never be rigid with one style or way of doing something..but to be flexible, that once we stop learning..we stop growing. Its about becoming our greatest version.
Philosophy
My philosophy is about balance. In all areas of training and life. From the amount of weights we lift, to the amount of cardio we do. The amount of training we do, to the amount of rest we take. The amount of stress we take on through work and daily life, to the amount of time we take out to play and do the things we love. The amount we work on ourselves on the physical level, we should also strive to balance with the mental and spiritual.