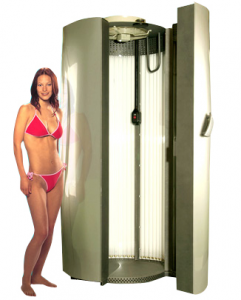 Tanning at Fitness Factory
Would you like to maintain your healthy looking glow?
Fitness Factory Telford have a top of the range Topaz stand up sunbed tanning booths equipped with 44x250watt Blu Infinity tanning tubes, the latest and best sunbed tanning tubes on the market.
Our tanning booth not only meets EU safety standards, it also gives you the best tan available by using a sunbed.

Benefits of Tanning at Fitness Factory Telford:
Tanning promotes relaxation and reduces stress.
UV light stimulates the production of Vitamin D3, essential in our bodies for bones to absorb calcium and prevent osteoporosis.
It counteracts the 'winter blues' or the effects of S.A.D. (Seasonal Adjustment Disorder).
It's proven by dermatologists to effectively treat skin conditions such as Acne, Psoriasis and Eczema.
It also increases resistance to infection and viral diseases.
Please get in touch to inquire about our tanning services.
Tanning Prices:
Tanning
6 Minutes - £2
9 Minutes - £3
12 Minutes - £4
90 Minutes
Save 10!
Use within a month
Unlimited
Use within a month
Max 9 minutes per day